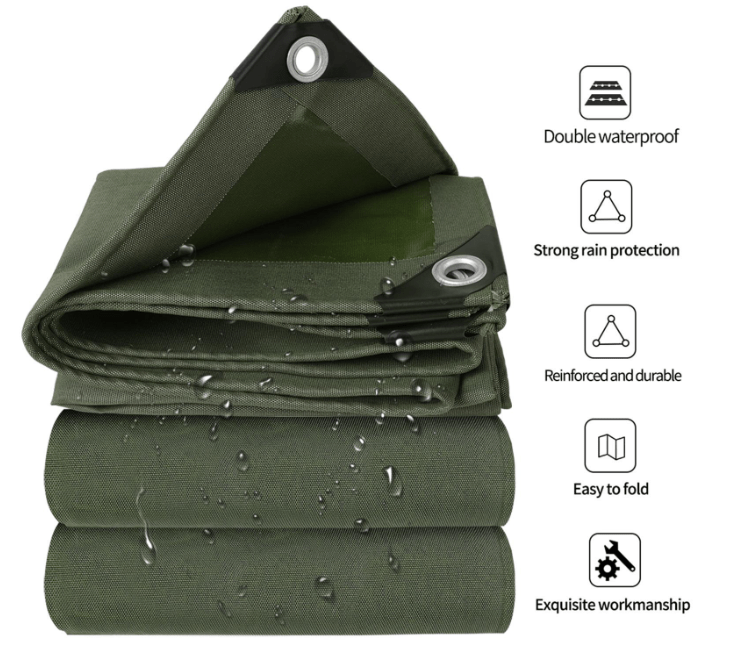 Canvas tarp heavy-duty tents are designed for heavy-duty use and harsh weather conditions. They are made from durable and high-quality canvas material, known for their strength and resistance to tearing. These tents are built to withstand rough outdoor environments, including heavy rain, wind, and UV exposure.
Canvas tarp heavy-duty tents offer excellent waterproofing, keeping occupants dry and protected during rainstorms. The canvas material also provides good insulation, making them suitable for camping in colder climates. Additionally, they offer resistance to mold and mildew growth.
These tents often feature reinforced seams, sturdy zippers, and robust poles or frames to ensure stability and longevity. They are generally spacious, providing ample headroom and room for multiple individuals or gear.
Canvas tarp heavy-duty tents are popular among campers, outdoor enthusiasts, and mining, construction, and disaster relief industries. They are known for their durability and reliability in challenging conditions, making them a preferred choice for long-term or semi-permanent shelter needs.
Treated – Our treated tarps have a unique protective feature that provides resistance against UV exposure, mold, mildew, and rotting.
Untreated – Untreated tarps are in their natural woven form. While water-resistant, they are not entirely waterproof and can only be used in specific conditions for a limited period.
Flame retardant – Our treated tarps are designed to withstand water, rot, and mildew, but they do not have fire-resistant properties. We offer flame retardant treatments as an additional option to ensure your canvas tarp is safe, especially in industrial settings.
Our canvas tarps receive accolades from numerous customers who appreciate their durability and minimal environmental footprint. Unlike
PVC or poly tarps, which are fabricated from polypropylene or polyethylene, our canvas tarps are crafted from 100% cotton duck fibers. This eco-friendly material ensures that our tarps retain their outstanding longevity and versatility, qualities for which they are highly renowned.
At D&R Tarpaulins, we can securely attach canvas tarps by incorporating convenient grommets per your preferences. Additionally, we prioritize the material's durability by ensuring impeccable stitching and finishing of the tarp edges.
There are no other tarp fabrics that can compare to the durability of canvas tarps. Canvas tarps are designed to withstand harsh conditions and provide outstanding protection against prolonged exposure to UV rays, making them a versatile choice for various applications.
Canvas tarps have become popular in farming, construction, and machinery industries due to their eco-friendly, durable, and versatile nature. They offer unique features like a slip-proof surface and breathability, making them highly effective coverings. Despite being more expensive and having a lower weatherproof rating, the demand for canvas tarps remains high.
If you're considering using canvas as your tarp material, D&R Tarpaulins offers an extensive range of canvas tarps for retail and wholesale. As a specialist in tarpaulin fabrication, we can provide canvas tarps that specifically cater to your needs. Whether the exact size you require or your ideal fitting option, our large factory enables us to tailor the tarpaulin to serve your specific purposes.